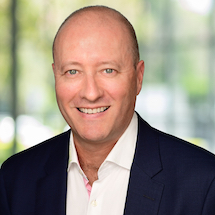 I am a CEO, Executive Director, Mentor, Adviser and Technology Entrepreneur with over two decades of experience building start-up enterprises into industry leaders. Pioneering emerging technology solutions since the dotcom boom, I offer the strategic acuity and ability to understand a vision, develop a strategy and execute it. As founder and CEO of Bulletproof Networks (now Bulletproof Group, part of AC3) and ZipWorld (now Pacific Internet, part of Telstra), I have demonstrated an ability to turn disruptive technology into value-add business propositions, fuelling the subsequent scale, ASX-listing and multimillion-dollar exit of the award-winning, market-innovating organisations I founded. More recently, I am leaning on these learnings, taking Logicalis Australia on its own transformation journey.
In 2019 I started a business in the Digital Transformation industry. Accelera Group was founded to empower businesses to disrupt their industry, through innovation and automation, to help them harness technology and do business differently. During my 18 years at Bulletproof before its acquisition by AC3 I learned that Digital Transformation is a hugely exciting space. It has the potential to deliver business-changing outcomes in response to new buying behaviours and differently-driven customers engaging within their connected lives. Who could have known what the COVID-19 pandemic had in store for this business? Reacting to the shift from strategic to tactical priorities for customers, in July 2020 Accelera acquired Ayenem to bring on core technical consulting capability, and expanded our team. Events in the lives of the core consulting team would spell a different destiny for Accelera.
In July 2021, I commenced a full time role as CEO for Logicalis Australia, part of the global Logicalis organisation of over 6,000 employees in 28 countries. Logicalis is helping its customers on their digital transformation journey by engaging along a lifecycle of services that align with the global strategy to be long term partners, rather than product-focused transactional suppliers.
In February 2020 I joined the board of neobank in1bank, Limited as a non-executive director. in1bank Ltd. has been granted Australia's 3rd Restricted Banking Licence from The Australian Prudential Regulation Authority (APRA). The key objective for in1bank is to be a trusted, secure and safe Digital Bank which provides a superior digital customer experience through the adoption of proven modern and agile technologies, and by offering innovative banking products and services. My position on this board is giving me exposure to the deep world of the banking sector and regulatory environment that surrounds it, such as APRA, ASIC and others.
I have been involved with the Pearcey Foundation (NSW) since 2009, helping to run and judge entrants for the annual Entrepreneur awards, which recognise mid-stage entrepreneurs in the ICT space. In 2021, I became the NSW Chair of Pearcey Foundation.
I often find myself helping out or acting as a sounding board for a number of colleagues and friends who are starting or growing their businesses, and am also a mentor with the Macquarie University Incubator and the UNSW Founders' Program.
More places to find me: